Reality Of War Essay Contest
by Daniel Rusnak
In They Would Never Hurt a Fly, Slavenka Drakulic follows the stories of the Hague War criminals from the former Yugoslavia. Drakulic argues that ordinary men transformed into war criminals gradually through intensifying rhetoric containing a perfect storm of prejudice, myth, propaganda history and culture. Becoming a war criminal is a process, she claims, that does not affect only those who are "predisposed" or "inhuman."  Indeed, anyone can become a war criminal under the right circumstances.  Even well meaning, civilized people like you and me.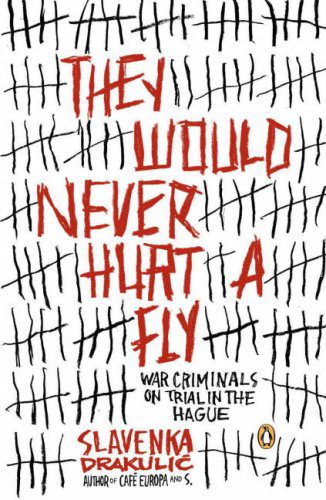 Ordinary people become monsters, Drakulic argues, through steady alienation of the "other" group.  Individuals slowly grow accustomed to hatred and absorb it into their daily lives.  It begins with trivial things like refusing association with the "other" ethnicity for fear of public ridicule and evolves to accepting – and even profiting from – the ethnic cleansing of an entire town: "This policy of small steps, of everyday decisions and concessions, of a collaboration on a much smaller scale." Propaganda made neighbors enemies, demonizing one another over ten years. The psychological groundwork for genocide was already in the works long before the war, based on "prejudices and myths rooted in reality either in history of earlier wars or in cultural or religious differences."
When asked why Serbians carried out war crimes, Bijana Plavsic, former President of Serbia, stated that it was blind fear of repeating the events of World War II saying, "In this obsession not to become victims ever again, we allowed ourselves to become perpetrators."  Such history of conflict is hard to forget.  In addition, none of the leaders of the war could have ordered the things they did without the support of the people.   Moreover, the collective culture, coupled with little personal responsibility resulted in no debate regarding the means to victory.  The war criminals that transformed from innocent fishermen to mass killers, Drakulic argues, did not arise from nowhere — they came from an extraordinary historical and cultural context.
Drakulic continuously searched among the war criminals for a wild, bloodthirsty "look" or pathology that could explain how these criminals were non-human psychopaths capable of carrying out their horrific orders in the Yugoslav War.  Instead, she found that the generals and soldiers were remarkably unassuming and articulate.  Their stories includes very wrong moral decisions, but the extent and severity of their situation and indoctrination matched the crimes they carried out. In this sense, Drakulic positions the war criminals as victims to their extreme circumstances and historical context.  Although the details regarding the war criminal's biographies were clearly fictionalized to a certain extent, Drakulic conversely levies fair treatment regarding their atrocities.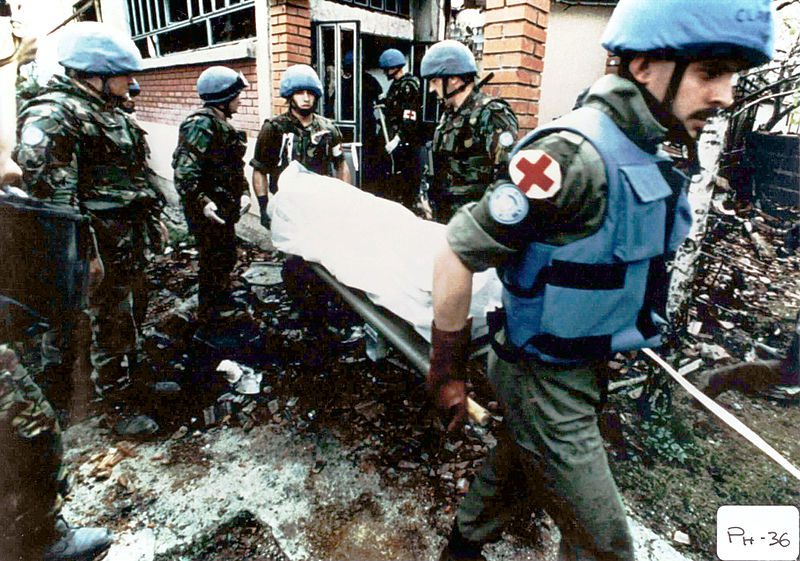 UN Peace keepers collecting bodies from Ahmići, Bosnia and Herzegovina, April 1993 (Image courtesy of the ICTY)
They Would Never Hurt a Fly is a persuasive and controversial work that delivers an unconventional moral and daring historical perspective on the Yugoslav War.  The book skillfully articulates a chilling and disconcertingly candid illustration of the war's atrocities and their perpetrators.  Although Drakulic does not identify with the war criminals, she ultimately disapproves of their non-human representation because it puts them in a classification in which we ourselves can never identify. They Would Never Hurt a Fly is most quintessentially a warning.  Yugoslavs never thought there could be war criminals among them – but there were.
And be sure to check out the other co-winning submission from Allegra Geller
More 1900s, Books, Europe, Periods, Regions, Topics, War
What Is "Fundamental"
October 28, 2017 to January 22, 2018
Interesting physical systems can be described in a variety of languages. A cell, for example, might be understood in terms for example of quantum or classical mechanics, of computation, or information processing, of biochemistry, of evolution and genetics, or of behavior and function. We often consider some of these descriptions "more fundamental" than other more "emergent" ones, and many physicists pride themselves on pursuing the most fundamental sets of rules. But what exactly does it mean?
Are "more fundamental" constituents physically smaller? Not always: if inflation is correct, quanta of the inflaton field are as large as the observable universe.
Are "less fundamental" things made out of "more fundamental" ones? Perhaps – but while a cell is indeed "made of" atoms, it is perhaps more so "made of" structural and genetic information that is part of a long historical and evolutionary process. Is that process more fundamental than the cell?
Does a "more fundamental" description uniquely specify a "less fundamental" one? Not in many cases: consider string theory, with its landscape of 10500 or more low-energy limits. And the same laws of statistical mechanics can apply to many types of statistically described constituents.
Is "more fundamental" more economical or elegant in terms of concepts or entities? Only sometimes: a computational description of a circuit may be much more elegant than a wavefunction one. And there are hints that even gravity, a paragon of elegance, may be revealed as a statistical description of something else.
Contest Timeline.
This contest is sponsored by The Fetzer Franklin Fund and by The Peter and Patricia Gruber Foundation.
The goals of the Foundational Questions Institute's Essay Contest (the "Contest") are to:
Encourage and support rigorous, innovative, and influential thinking about foundational questions in physics and cosmology;

Identify and reward top thinkers in foundational questions; and,

Provide an arena for discussion and exchange of ideas regarding foundational questions.
For examples of previous FQXi contests, please see the list to the left.
An expert panel of judges will be instructed (and general readers strongly encouraged) to rate the entries by the degree to which they are relevant and interesting, as more specifically described below, with 1/3 weight given to relevancy and 2/3 weight given to interest.
Relevant: The theme for this Essay Contest is: What Is "Fundamental"?

This contest does not ask for new proposals about what some "fundamental" constituents of the universe are. Rather, it addresses what "fundamental" means, and invites interesting and compelling explorations, from detailed worked examples through thoughtful rumination, of the different levels at which nature can be described, and the relations between them.

While this topic is broad, successful essays will not use this breadth as an excuse to shoehorn in the author's pet topic, but will rather keep as their central focus the theme of the contest.

Additionally, to be consonant with FQXi's scope and goals, essays should be sure to touch on issues in physics and cosmology, or closely related fields, such as astrophysics, biophysics, mathematics, complexity and emergence, and the philosophy of physics.

Interesting: An interesting essay is:

Original and Creative: Foremost, the intellectual content of the essay must push forward understanding of the topic in a fresh way or with new perspective. While the essay may or may not constitute original research, if the core ideas are largely contained in published works, those works should be the author's. At the same time, the entry should differ substantially from any previously published piece by the author.

Technically correct and rigorously argued, to the degree of a published work or grant proposal.

Well and clearly written, so that it is comprehensible and enjoyable to read.

Accessible to a diverse, well-educated but non-specialist audience, aiming in the range between the level of Scientific American and a review article in Science or Nature.
Applications will be accepted electronically through the form on FQXi's website, as follows:
ENTRY

Submission: Essays and accompanying material must be submitted online using the webform between the dates of October 28, 2017 and January 22, 2018 (until 11:59PM Eastern Time). Applicants must provide accurate contact information, an abstract of their essay, a brief biographical statement, and their essay.

Immediately after an essay application is submitted, the applicant will receive an application confirmation email containing this information at their specified email address. This confirmation DOES NOT mean your essay has been accepted into the Contest; it simply notes that FQXi has received the submission.

All essays will be reviewed for rule compliance (see "Publication" below) and those that are eligible will be posted online within 10 business days. Essays received on the deadline date will be posted in batches for up to 10 business days after the contest ends.

Please note: You will be required to register an email address with fqxi.org and set up an account to enter the Contest. This information is available on the application page.

Acceptability: In order to be judged, essays must at least satisfy minimal professional standards of acceptability for publication, both qualitative and quantitative.

Format & length: Essays must be submitted as PDF documents via the webform.

Eligible essays must comply with these guidelines:

The body of the essay may not exceed 25,000 characters (not including spaces). To ensure your submission fits the character count, you can use our online character counter.

The length of the body of the essay must not exceed 9 pages, including figures and equations, calculated based on a standard 8 ½ x 11 inch single-sided page with 1 inch margins.

The following can be appended to these 9 pages: one page of references, and up to two pages of technical endnotes. No essay text (such as textual footnotes), figures, notations, or equations can be included in the reference section. The technical endnotes are meant to provide an opportunity for additional technical detail while retaining a readable, accessible, and self-contained essay body; all essay reviewers, including the Expert Judges, will be encouraged to focus on the body of the essay, and use the endnotes only as a technical supplement to a self-contained work.

Color figures as well as hyperlinks within the document are acceptable.

Although FQXi will accept essays from anyone anywhere, the essay must be submitted in English.

Publication: After submission and review for rule compliance, each essay will be posted (within 10 business days) in the FQXi Community Forum, under the category 'Essay Contest: Wandering Towards a Goal', along with each author name and bio. Thereafter, the author and interested readers (including FQXi Members, other contest entrants, and the general public) are invited to discuss and comment on the essay. (Although commenters will be rating the essays, the goal of the forum is to discuss the essays and the ideas they raise; thus commenters are strongly encouraged to cultivate a supportive atmosphere of scientific conversation rather than a judgmental atmosphere of critical scoring and evaluation.)

All comments in the Essay Contest Forum must abide by FQXi's terms of use and appropriate content rules that can be found here.

JUDGING

Community evaluation: Every FQXi Member and approved Contest entrant will be provided with a code allowing them to rate essays as a 'Community evaluator', on a scale of 1-10 (10 being extremely relevant and interesting).

A rating code will be provided to each entrant in the confirmation email. The confirmation code will be at the bottom of your confirmation email. If an essay is considered ineligible in the Contest, the rating code will not be active. Community ratings can be submitted until 11:59 pm Eastern Time, February 26, 2018.

FQXi expects those providing community evaluations to do so based solely on the quality of the essay assessed. Voting collusion or bartering, mass down-voting, and other such forms of 'voter fraud' will not be tolerated, and participants in such will have (all) their votes discarded or in extreme cases their essays disqualified. Entrants should alert FQXi with information if they witness such activities.

Finalists: A minimum of 40 finalists (the "Finalists") will be determined once voting closes. A minimum of 30 finalists will be selected based on the following procedure:

Any entry with an author who is an FQXi Member at the time of submission will automatically become a Finalist ( an "auto-inducted entry"), if and only if the following criteria are met:

Their essay is eligible as per the Contest guidelines.
The Member author has rated 5 other entries and left a suitable comment or question in the online forum for each of the entries he/she has rated.
The total number of auto-inducted entries does not exceed 30.

In case Member entries exceed 30, the Member Finalists will consist of the 30 auto-inducted essays with the highest Community ratings that have each received at least ten ratings. Furthermore, if the auto-inducted Member entries exceed 15, FQXi will increase the number of Finalists to ensure that there is a fair representation of the top Community rated entries submitted by people who are not FQXi Members.
The remainder of a base set of 30 finalists will consist of the entries with top Community ratings that have each received at least ten ratings, not including any auto-inducted essays.
In addition to the base set of 30, the Expert Judges will select up to 10 additional entries, at their discretion, to form the full pool of Finalists.

Expert Judges: A panel of the applicants' peers, chosen by FQXi, will be asked to carefully review, deliberate upon, and rate the Finalists, based on the criteria specified under "Evaluation Criteria".

This expert panel of judges will be confidential; their names will not be released, though they are free to post online comments just as any Community or Public evaluator.

Final Ranking: The final ranking that determines the First, Second, and Third prize winners will be determined by the Expert Judges using the Evaluation Criteria.

Discretionary Prizes:The Judges will also have the option to award any number of Discretionary Prizes to the Finalists chosen for peer review, up to a total amount of $10,000, chosen at their discretion.

Public evaluation: Members of the public will also be allowed to rate essays. Ratings from the public will be accepted until May 1, 2018.

Public evaluators will have to submit their email address in order to rate essays. As with the Community evaluator, each Public evaluator can enter one score, 1-10, per essay.

Prizes will not be awarded directly on the basis of Public ratings, but these ratings may influence either Community evaluations or Expert judging.

All decisions of the judges are final and the selection of Winners is at the sole and absolute discretion of FQXi.

PRIZES

In addition to the cash prizes listed below, all First and Second Prize Winners will receive a nomination for FQXi Membership, if the applicant is not already a Member. (These top Winners will then be vetted through FQXi's new Member nomination process to ensure they meet the basic qualifications for Membership.) Springer will consider adapted material from the winning essays for possible publication.

A total of $40,000 will be awarded. Prizes include:

First Prize: US$10,000

Second Prize: US$5,000 each

Third Prize: US$2,000 each

Fourth Prize: US$1,000 each

Judging Panel Discretionary Prizes: various amounts, not to exceed US$10,000 total
No purchase necessary to enter or win. A purchase does not increase your chance of winning.
ELIGIBILITY

The Contest is open to everybody except employees and consultants (including Contest judges) of the Sponsors (Fetzer Franklin Fund, The Peter and Patricia Gruber Foundation, Submit, and the Foundational Questions Institute) and each of their respective parents, subsidiaries, affiliates, advertising and promotion agencies (collectively, the "Contest Entities") and their family/household members (defined as parents, spouse, children, siblings, grandparents).

GUIDELINES

No person is allowed to submit more than one essay to the Contest, regardless if he or she is entering individually or as part of a collaborative essay. If more than one is uploaded, all except the first will be disqualified. (On the rare occasion when a replacement is requested by FQXi, this will be handled outside of the usual submission system.) Collaborative essays written by more than one person can be submitted. If such an entry is awarded a Prize, it will be split equally among the collaborators.

Sponsors reserve the right to cancel or modify this Contest in the event that an insufficient number of entries are received that meet the minimum judging criteria.

This Contest shall be construed in accordance with U.S. law. All Federal, state and local laws and regulations apply.

Essays complying with the rules and satisfying minimal relevance and quality criteria will be automatically posted on the FQXi Community Forum website together with authors' names; after Prizes are awarded, contest Winners will be highlighted as such. The Sponsors reserve no copyrights to the submitted work; however, by submitting an entry, the applicant hereby grants to the Sponsors a worldwide, royalty free license to so post the essay, as well as use the essay for internal and advertising, marketing and promotional purposes of the Contest, in perpetuity, in any and all media now known or hereafter invented.

By submitting an essay, entrant represents and warrants that the essay is entrant's own creation and is 100% original work; is not subject to, and does not infringe upon, the rights of any third parties, including without limitation, copyright, trademark or privacy or publicity rights; and is not defamatory, obscene or otherwise illegal.

Entrants not complying with these requirements will be subject to disqualification. All entrants must have a valid email address. In case of dispute as to identity of entrant, entry will be declared made by the authorized account holder of the email address submitted at time of entry. "Authorized Account Holder" is defined as the natural person who is assigned an email address by an Internet access provider, online service provider, or other organization (e.g., business, educational, institution, etc.) responsible for assigning email addresses or the domain associated with the submitted email address. Any other attempted form of entry is prohibited: no automatic, programmed, robotic or similar means of entry are permitted. The Contest Entities are not responsible for technical, hardware, software, telephone or other communications malfunctions, errors or failures of any kind, lost or unavailable network connections, website, Internet, or ISP unavailability, unauthorized human intervention, traffic congestion, incomplete or inaccurate capture of entry information (regardless of cause) or failed, incomplete, garbled, jumbled or delayed computer transmissions which may limit one's ability to enter this Contest, including any injury or damage to participant's or any other person's computer relating to or resulting from participating in this Contest or downloading any materials in this Contest.

All Prizes are subject to United States Income Tax. Winners are required to furnish FQXi with appropriate tax forms for reporting the Prize, and applicable taxes may be withheld from the Prize.

Void where prohibited by law. FQXi reserves the right to refuse to award any Prize if doing so violates any applicable laws.

By submitting an entry in the contest, the author agrees to release, defend and hold harmless the Contest Entities and each of their respective directors, officers, employees, agents, volunteers, the Contest judges, and their affiliates, heirs, successors and assigns from and against, and waive any right to pursue, any and all claims of any nature whatsoever arising out of or in connection with the Contest, the selection of Winners, and the use of the submitted essay, the author's name, and biographical information as authorized under these Contest rules.

All decisions of the judges are final and the selection of Winners is at the sole and absolute discretion of FQXi.

NOTIFICATION & ACCEPTANCE

Potential winners will be notified by e-mail on or about May 1, 2018, and may be required to execute and return an Affidavit of Eligibility/Release/Prize Acceptance Form within fourteen (14) days of attempted notification. Each participant selected as a potential winner must comply with all terms and conditions set forth in these Official Rules, and winning is contingent upon fulfilling all such requirements. If the winner cannot be contacted within seven (7) calendar days of first notification attempt, if prize or prize notification is returned as undeliverable, if winner rejects his/her prize or in the event of noncompliance with these Contest Official Rules, such prize will be forfeited and an alternate winner will be selected from all remaining eligible entries. Upon prize forfeiture, no compensation will be given.

The names of Winners will be posted on www.fqxi.org on or about May 8, 2018.

GENERAL: Acceptance of a prize constitutes permission by Winner to use of his/her name, photograph and/or likeness for advertising, publicity and promotion purposes without compensation (unless prohibited by law).

CAUTION: ANY ATTEMPT BY AN ENTRANT TO DELIBERATELY DAMAGE ANY WEB SITE OR UNDERMINE THE LEGITIMATE OPERATION OF THE PROMOTION MAY BE A VIOLATION OF CRIMINAL AND CIVIL LAWS AND SHOULD SUCH AN ATTEMPT BE MADE, THE CONTEST ENTITIES RESERVE THE RIGHT TO SEEK DAMAGES FROM ANY SUCH PERSON TO THE FULLEST EXTENT PERMITTED BY LAW.